Welcome to the IDEN Wiki
IDEN, Irish Doughnut Economics Network is a voluntary group of individuals that come together to
learn and share knowledge about transformative action through the model of Doughnut Economics
explore a healthy discourse and hear different voices around new ideas for 21st-century economics
connect with each other through the Doughnut Economics Action Lab (DEAL) code of conduct and principle of practice
support ourselves and each other around the aim of meeting the needs of all people within the means of the living planet
bring the doughnut local in an Irish context to their town, village, city, place of work or organisation and are learning how they might do that
This site is intended to hold our documentation and allow us to collaborate on events and actions relevant to
Doughnut Economics in Ireland.

Irish doughnutters are a friendly bunch from all different backgrounds bringing their curiosity to a shared interest, to see if they can find answers in the doughnut for places we live, work and play in. Our aim is to create an open resourceful space digitally and in-person (when this becomes possible again). We respectfully request that people wanting to join IDEN have familiarised themselves and joined DEAL as we follow the
principles of practice
and the code of
conduct
.
By joining IDEN events or engaging digitally in dedicated spaces you are agreeing to have read & follow the code of conduct and principles of practice.
This is to create a fair and safe space for everyone online.
What's happening in IDEN:
Newcomers may like to visit
GettingStarted
and check out the global community
DEAL website
.
We are forming a structure for action in IDEN for 2021. The IDEN Slack is up and running request an invite to join. Link coming soon.
Open public virtual cuppa after-hours second Tuesday of the month
Virtual Cuppa - after-hours next session 9 March 2021 7:30 - 9:30 details


Virtual Cuppa weekly Friday morning sessions
until May 2021 details in the Slack channel request to join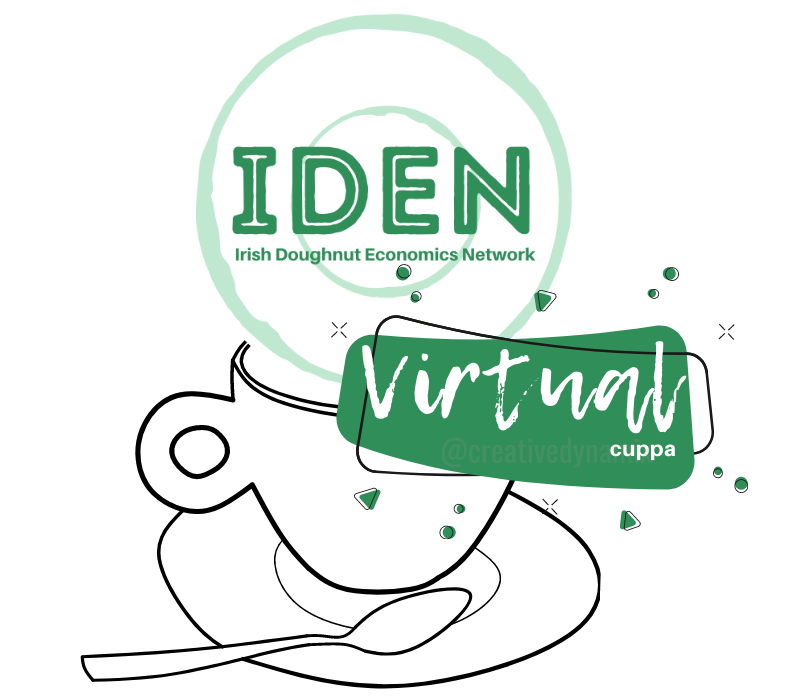 The VirtualCuppa space is to meet our active IDEN network. We meet as individuals with a shared interest in Doughnut Economics in an Irish context.
Zoom details are available on request.
Listed on DEAL
here
. The
BookClub
is hosted by Caroline, Celine and Lauren. It came out of our first cuppa where Roisin asked us all to map our current knowledge of Doughnut Economics. The aim is to increase our knowledge, collective narrative and be able to speak about using the doughnut for transformative change. Individually committing to a deep dive read of one chapter a week. The group comes together to discuss and explore the chapters, reflecting on personal learning and action. The IDEN book club has concluded it's deep dive. The format of 3 participants invited to lead the following week discussion. worked really well for learning and knowledge sharing. Most of the presentations are
here
.